Our celebration of the lifting of the prohibition in NY was small, at home, and we were effervescent.

These old hollow stem glasses make a fountain of bubbles rise up from the bottom.

We also already received our stimmy money

and had our 2nd Covid vaccinations a week ago.

I am totally feeling like an April Fool and lovin' it.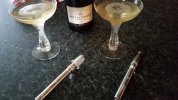 The 'setups' here are our current default io mode when not using some larger glass (though none of our glass is very large).
Both are ss io's with pfe's attached. We prefer the more open draw from pfe. Slid onto it is a short length of silicone tubing that adds a nice grip for screwing/unscrewing. It also helps me tell them apart.
On right, there's a ss drip tip added (for wife) and on the left a 14mm f to 18mm m glass adapter (for me!).