Hey guys... I was talking to Randy from PIU yesterday and he told me about a new vape they have been testing hard

these days... So I did a small google searching just now and I found the facebook page and the official site.
http://flashvape.com
https://www.facebook.com/flash.vape
Copying from the site for our viewing pleasure...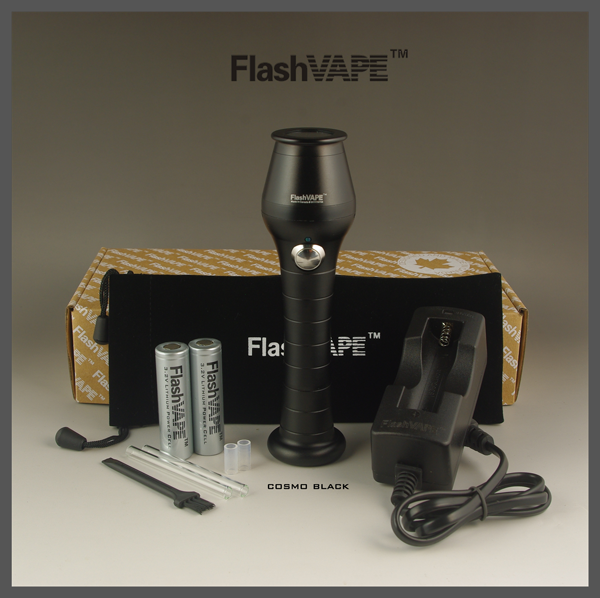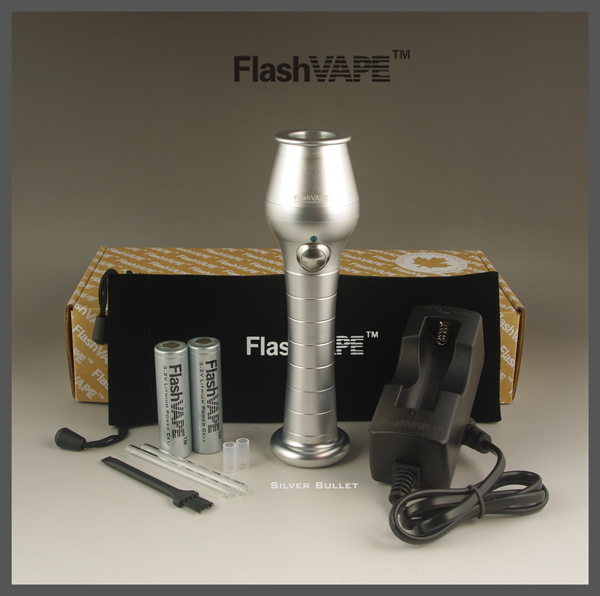 FlashVAPE™ is loaded with features to make it the ULTIMATE portable electric vape!
Here is a list of physical features of this sleek and beautiful vape from the top down:
Removable See-Thru Vape Window™ lets you see the vapor forming!
Easy to clean tempered glass lens
Fine SS mesh filter to keep the vapor pure and clean
Unique swivel cap design allows for easy removal for reload and comfortable left or right hand use
Double seal design keeps the swivel cap on firmly
Glass draw tube for a clean and pure taste
Direct-flow™ side air intakes ensures 100% clean air path, the air you breathe in goes directly into the ceramic vape core, and does not pass through any other compartments (ie. battery, switches, wiring, etc)
100% Ceramic Dura-core™ is the heart of this vape. It is made to last, completely clean, and is heated by a 100% stainless steel element with replaceable top screen. The large bowl measures 1" or 2.5cm diagonally and can hold an ample amount for each vape session
Power-on indicator lets you know when the unit is in operation
Polished Stainless Steel push button power-on switch
All heavy-duty solid copper wiring
Sealed battery compartment
Comes with specialized, high capacity 18650 Li-ion (LiFePo4) batteries for extended use (up to 1 hour use on each charge)
Main on-off power switch in the base
Sleek, beautiful design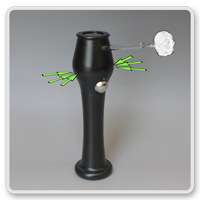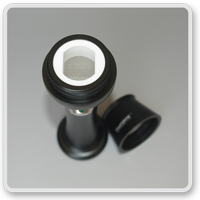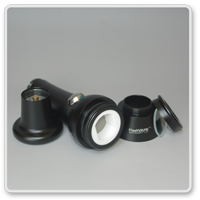 FlashVAPE™ is the fastest working vape on the market today, each puff done in 5 seconds flat!
You will be impressed with its many advantages over the competition:
"F-A-S-T !" This vape gets the job done in under 5 seconds each puff... it works seriously fast!
No warm up time required, starts to work instantly!
Organics & Solid Concentrates.... 'hello!
So easy to use, if you can count to 5, you know how to use this vape!
Beautiful sleek design and available in a varity of colors
Solid construction, made with precision machined, 100% anodized aluminum alloy body, 100% ceramic core, and polished stainless steel power-on button... it's quality you can touch!
Large capacity ceramic bowl measures 1" or 2.5cm diagnally, designed to hold lots of your favourite blends or solid concentrates for a satisfying session!
Replaceable Screen: the stainless steel top screen of the heating element can be easily replaced for consistant performance over time.
"S-A-F-E !" We take safety seriously. This vape is built with safety in mind, including the below safety factors:

Safe Air Path: in designing the best vape on the market, we ensured that the air flow path of this unit is 100% sealed and isolated from working components such as battery, wiring, switches etc. to ensure that each puff is 100% clean!
Safe Batteries: in selecting the right battery for this vape, we were sure to choose one that is not only high in capacity, but is also one of the safest type of rechargable Lithium's (LiFePo4 18650 ) on the market today!
Safe Ceramic Core: the heart of this awesome vape is a 100% ceramic core with stainless steel heating element. All your vaping materials will come into contact with inside the FlashVAPE is ceramica and stainless steel for the utmost safety & clean taste!
Safe Operation: with main power on-off switch in the base to ensure no accidental, unintended power-on time.

Extended use time: the FlashVAPE is so efficient that each fully charged battery will power through 2-3 bowls each session!
Easy to clean: this vape can be taken apart and cleaned easily with features like the removable tempered glass see-through window, and can be isopropyl alcohal dipped (upto the base of the ceramic core, including the stainless steel heating element) for easy cleaning!
Two Year international warranty
HOW TO USE:
The FlashVAPE™ is so easy to use, if you can count to 5, you know how to use the FlashVAPE™.
This awsome vape is built for reliability and ease of use. You simple:
insert the battery, and turn on the main power switch,
fill the bowl half full,
press the power button for 1-2-3-4-5 seconds,
let go, and take your puff!
There is no waiting period, no warmup required, no hassles, its that simple! Then, when you are ready to take your next puff, simply give the FlashVAPE a shake to redistribute the materials evenly in the bowl, and press the power button again to repeat the 5 second process!
The FlashVAPE™ is built for vaping efficiency, it can be used withORGANICS OR SOLIDS CONCENTRATES!
The magic temperature for vaporization to occur is at between 190°C and 230°C (250°C for solids), and this magic happens inside the FlashVAPE™between the 4th and 5th second of the power cycle. So when you press the power-on button on the FlashVAPE™, you control and fine tune your prefered vaporizing temperature by controlling the amount of power-on time!
IMPORTANT TO KNOW:
-Only fill the bowl to maximum of half way to the top for best efficiently, as your materials need room inside the vape chamber to move around when you shake it between each puff.
-Each half filled bowl should last approximately 10-15 puffs at 5 seconds of vape time each puff, before most of the active ingredients are vaporized.
-A full charged battery will last a good 2-3 bowls before requiring a recharge. However, it is recommended that batteries be charged after each bowl vaped.
-DO NOT press and hold the power button for more than 5 seconds as if left unchecked, temperatures inside the vape chamber can get to well above 300°C.
-DO NOT inhale while the power button is pressed. Air flow will decrease the conduction and convection effects of heat inside the vape chamber, and also the super heated air can be harsh on your throat! Always wait for a one second period after releasing the power button before inhaling.
-DO NOT allow the batteries to overheat. While using the unit, if any part of the unit becomes too hot touch comfortably, stop and allow the unit to cool throughly before re-use.
-DO NOT use any other battery in the FlashVAPE, other than the cells that came with your unit. The batteries that your FlashVAPE comes with are high quality specialty 18650 Lithium Ion (Li-Fe-Po4) batteries which are safer than traditional 18650 batteries, and runs on a lower voltage.
-ONLY use the included smart charger to charge your FlashVAPE batteries.
-DO NOT disassemble the unit in any way other than during the course of ordinary use. Any disassembly COMPLETELY VOIDS WARRANTY!
FOR FULL INSTRUCTIONS, please refer to the instruction manual that comes with your unit.​
---------------------------------------------------​
So, it looks interesting... I'd love Randy to post a pic holding it maybe just to understand the size better. I guess the maker knows about the site and will pop up here. I saw from the site that today is the first day in the market. 2012! The year of the vapor revolution!