Well-Known Member
Manufacturer
The CouchLog
is a full convection, log style vaporizer with a ceramic beads heater made in Germany.
I simply love building vapes and want to thank the whole FC community for feeding me with inspiration and knowledge.
What started as a DIY project escalated pretty quickly into this high-end product - here you go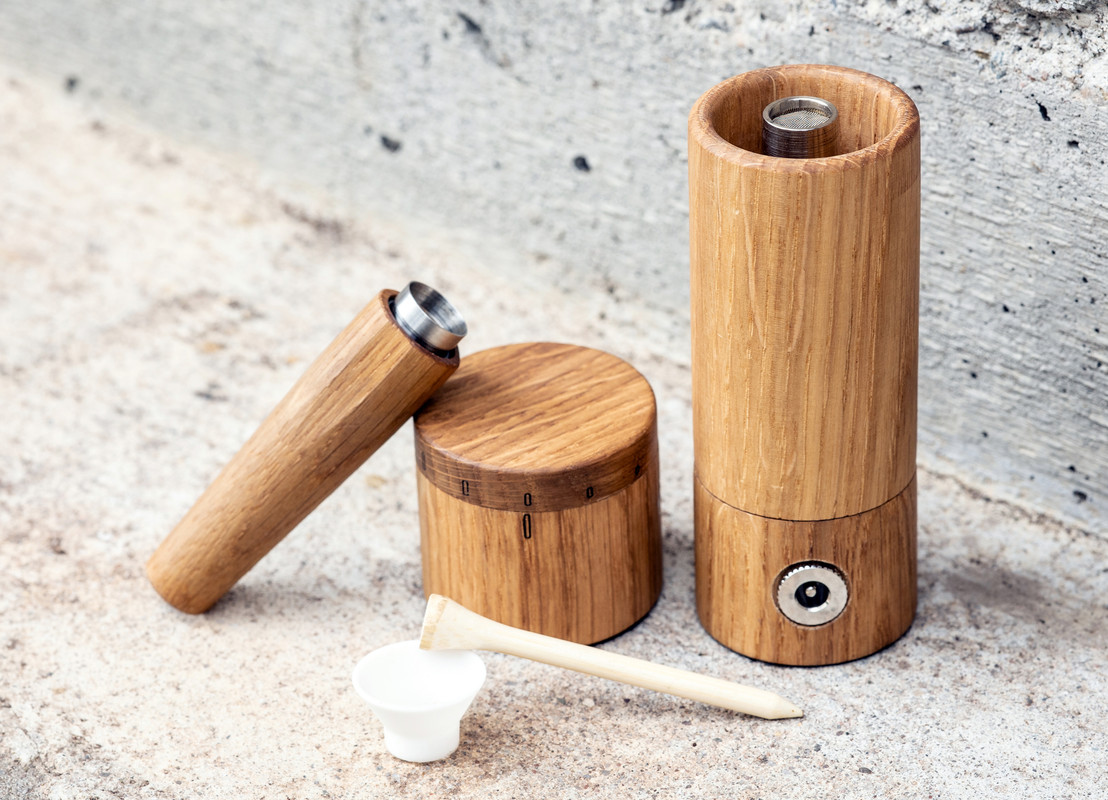 Features and numbers:
-Herb chamber can hold up to 0,15g and is cleared in 1 hit.
For microdosing, go as low as you want. There is no insufficient amount.
-Heater has a 14mm fit, so you can attach it to other 14mm components. (custom bowls)
-Low draw resistance.
-Airpath of the CouchLog contains ceramic and stainless steel.
-Mouthpiece can be used with or without glas. (fits 14mm/18mm)
-Herbs are detached from the heating element, to prevent the load from losing potency and keep the heater clean.
-The cooling unit is adjustable and the containing reclaim is easily recyclable.
-Log and temperature control are magnetic to attach them to magnetic surfaces and prevent them from tipping over.
If you don't have a magnetic surface in your dojo, two adhesive metal Pads are included.
-Heat protection sleeve is detachable to work in close conditions and to speed up the cooling process.
-For better handling, the unit can be unplugged while vaping.
-Temperature range is around 160°C-250°C
-The CouchLog needs 15 min to get into thermal equilibrium and can be run all day.
-Power supply needs 12W max.
-Size of the CouchLog Ø40mm x 100mm
-Size of the temperature control Ø44mm x 39mm
-Stirring/Tamp tool
-Funnel for easier loading
Performance shot (glas):
Direct use:
Beta phase with several test devices went very smoothly.
Now I'm looking for interested people to produce a first batch.
Batch size depends on demand.
starting price for the CouchLog is 370€ + shipping
It contains:
-CouchLog (Oak wood)
-temperature control (Oak wood)
-Mouthpiece (Oak wood)
-Power supply (EU/US)
-connecting cable
-Stirring/Tamp tool
-Loading funnel
-2x Metal adhesive pads
-Recycling pads
-Spare parts (O-Ring/screen)
-Manual
The production time depends on several factors, but we're doing our best to get the devices out asap. (the payment needs to be done when your device is ready for shipping)
If you're interested, send me a DM with your contact details (E-Mail/Name/Country) and I will add you to the list.
Last edited: