Well-Known Member
Accessory Maker
Hi FC peeps. I have been on FC for a little over a year and thought I should formally introduce myself and make a place to talk about some of the products that we offer.
I'm Dave and The Rogue Wax Works is my passion project that grew out of my need for dab and concentrate tools and vaping accessories.
We primarily specialize in high quality, unique Dab & Concentrate Tools. We have sourced tools from various industries, selected for their quality, utility and versatility.
An offshoot of The Rogue Wax Works is "Reclaim". A project in which we take reclaimed furniture parts and turn them into unique handles paired with the tools our clients have come to love and trust.
I am 50 years old and have been combusting cannabis since I was 15 so I'm no stranger to the old paradigm of smoking. I am, however, new to vaping. I'm proud to say that a little over a year ago I switched to vaping and dabbing only and have not looked back. Since then, because of my nature and because of my business, I have dove into the world of vaporizers head first.
All this eventually led me to the Dynavap Vapcap. I love its simplicity, rugged elegance and how it can deliver the most subtle flavorful hits or massive clouds that instantly launch you into the stratosphere.
Using the Vapcap naturally led me to tinker and the TRWW Bowler was born. As I used the Vapcap I realized there were things I always needed, like a place to put ABV and a magnet or two. I also would use other vapes at the same time so I needed a way to carry everything from my garage (wife bans me but at night I hotbox the office) into the house. I looked online for what was available and it just wasn't my style so I went and found an old wood tray, refinished it, put some magnets in it and had my first tray. It worked perfectly for my needs and an idea was born.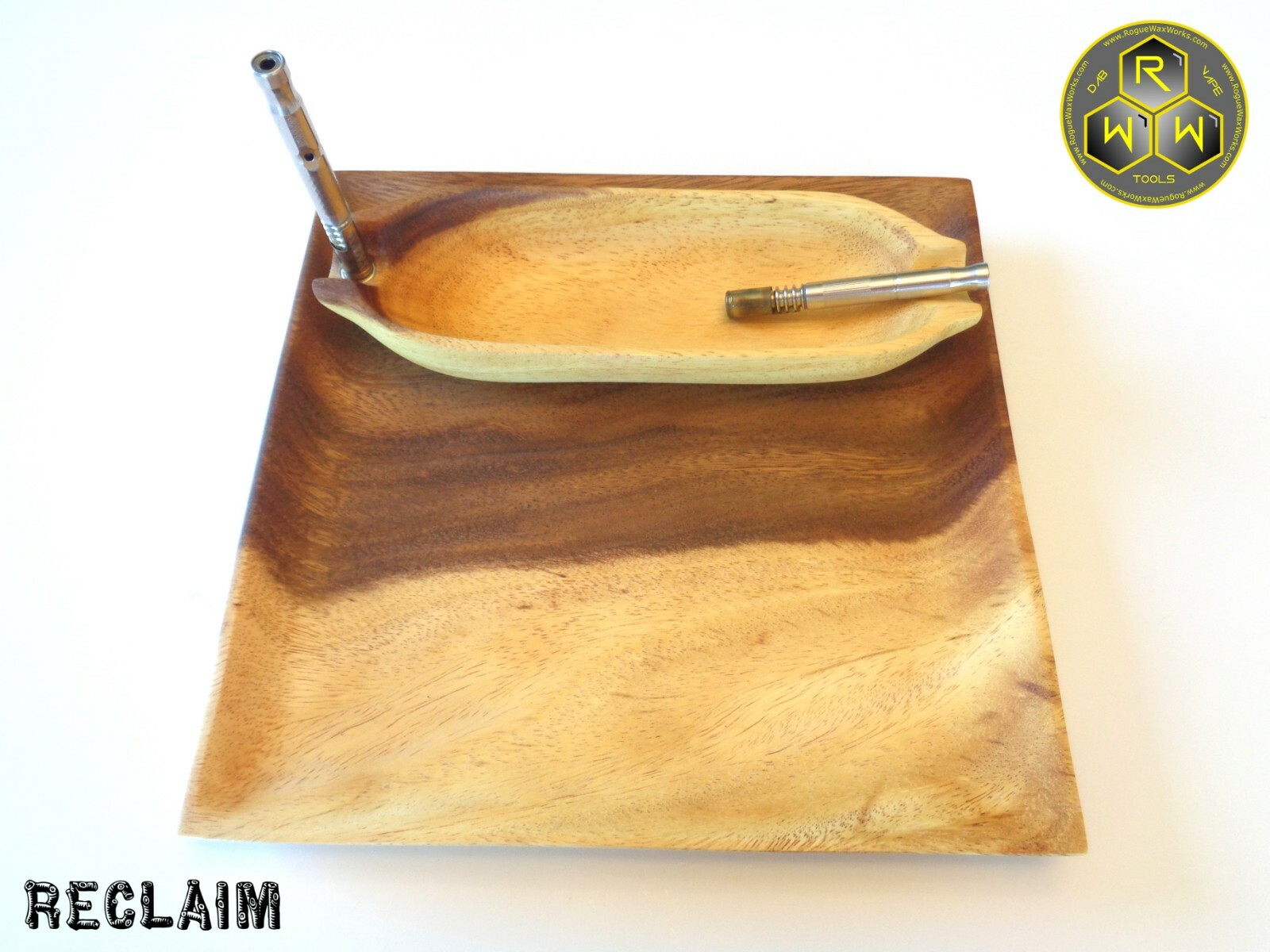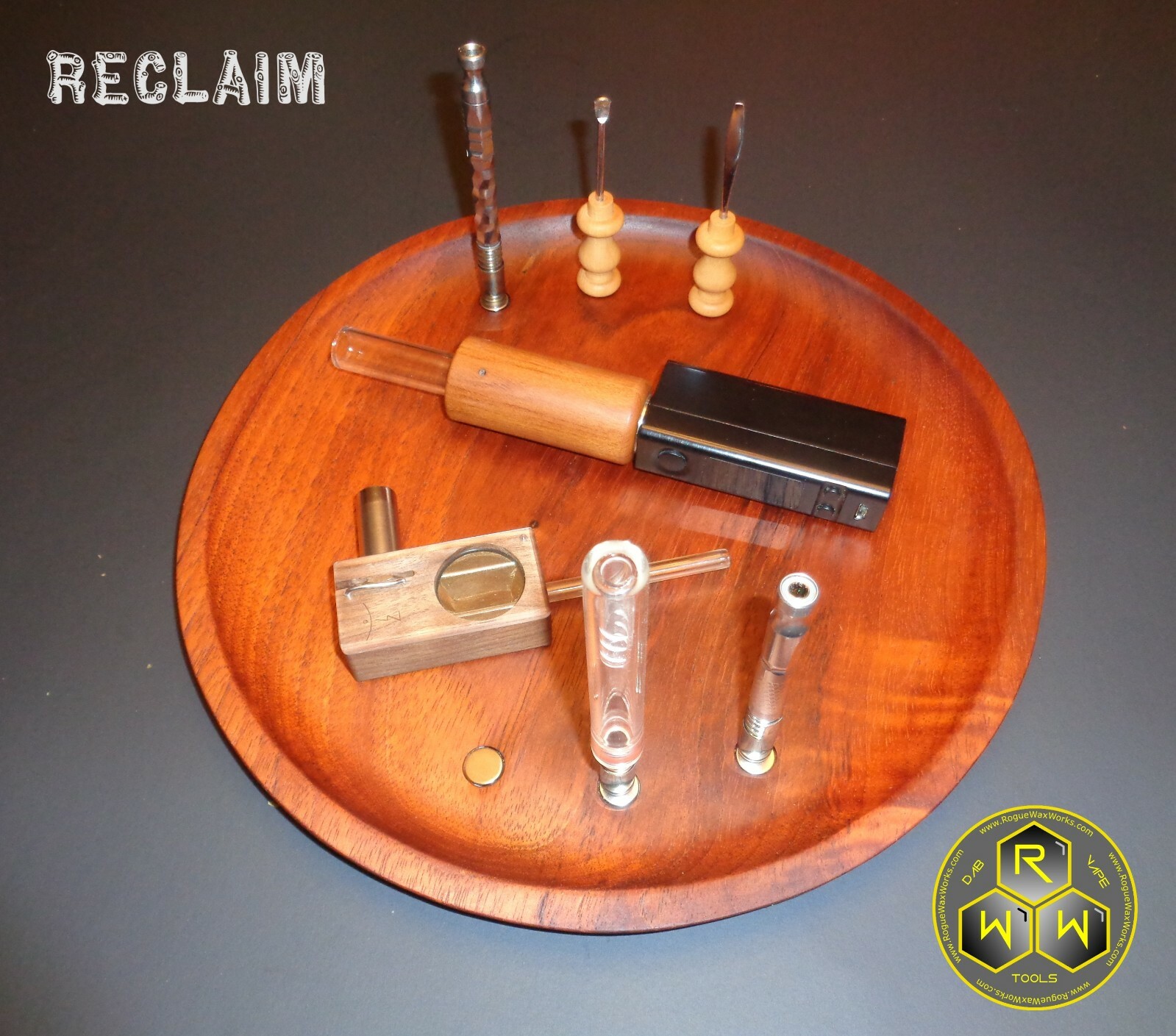 Coming Soon - Waiting for tool tips
I DO NOT MAKE ANYTHING FROM SCRATCH!! I am an incredibly transparent person, some have already experienced that. All my listings say that I do not create from scratch and I show the source material in the tool adds and state that the wood trays are "reclaimed' Items. I have never made any claims otherwise. I have had a little shade thrown my way because I'm refinishing and repurposing vintage items not creating them from scratch. And if that's how you feel, that's OK with me. I'm not expecting everyone to like what I do. Or am I looking to change any minds. But…..the fact that I do not make the wood Items from scratch does not mean that I do not spend significant time, energy and creativity refinishing most. I see what I do as rescuing something at the end of its life, something that was once beautiful and cherished, but is now old and worn, and giving it a new life, a new purpose, and hopefully someone will love it again. Doing this is not new to me. Doing it at a small scale is (see sections way below on what I do for a living).
You also won't find holes and compartments for every piece of equipment in my wood trays. It's not that I can't drill or router a hole, it's that it's not my style. I guess I'm flipping the script on what people expect and have come accustomed to. I grew up smoking weed in my parents wood paneled basement, but so many others didn't and there is a new generation of cannabists looking for something different. I think I offer a different perspective.
I use what I sell. I test everything. I only sell things I would have in my collection.
When I see these items I see the beauty and the artist that originally created them. I want to preserve them. I'm happy to find them a new purpose and home. And, not everything needs a magnet.
I want to bring you something unique, beautiful and functional.
My stores can be found here:
https://www.etsy.com/shop/TheRogueWaxWorks?ref=seller-platform-mcnav
https://www.ebay.com/usr/roguewaxworks
Last edited: