Master JedHI
Manufacturer
I make a desktop vaporizer called the Insta Heat (aka iHeat) which consists of a base section with a 12 volt input that controls the voltage to the upper heater section. The two sections are connected together with 510 threaded fittings which allows the upper heater section to be connected to a suitable mod box making it into a portable unit. Therefore, I am including the iHeat 510 heater cartridge portion in the portable vaporizers section.
The herb is roasted in an 18mm tapered tube w/ 12mm ss basket screen that fits into the taper of the heater section. The roasting tube can be either glass or wood with an 19/22 mm end.
The heater section can be made with a tapered glass insert or the taper can just be cut into the wood body. The minimum diameter of the glass insert model is 1.25". The minimum diameter of the all wood model is 1".
Here is a comparison of the all wood body and a wood body w/ glass insert. Both units are 1.25" in diameter and 2.25" long. The glass insert is held in place with a silicone sleeve to allow for some shock absorption. The 510 deck is slides into the wood body so that no glue is required for the heater cartridge assembly.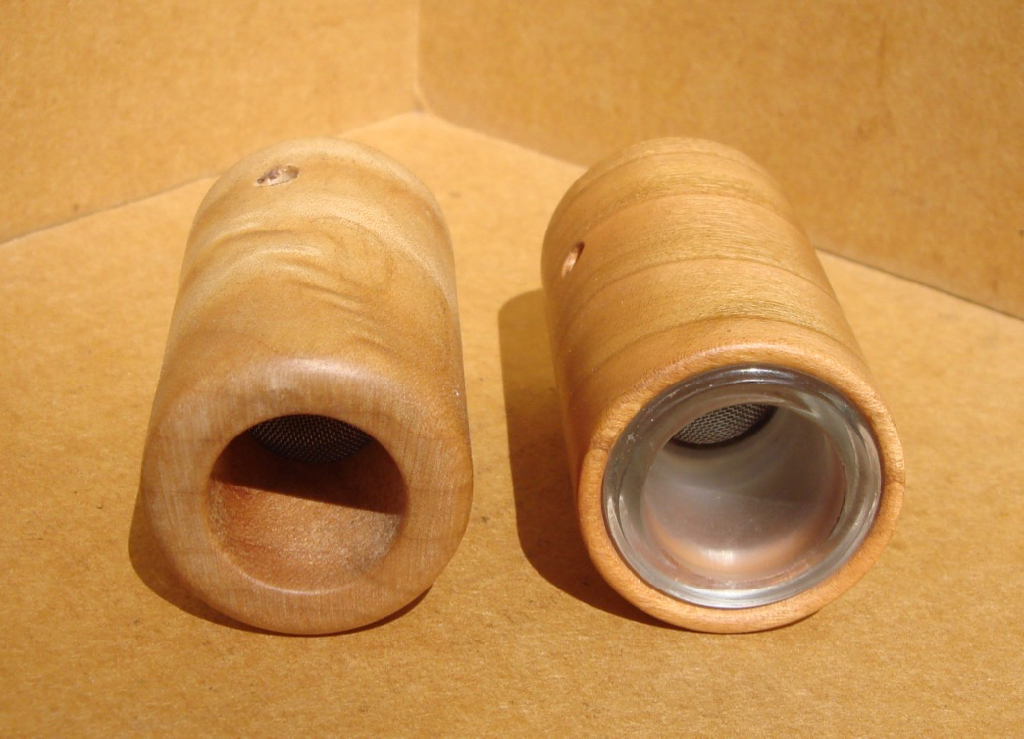 Here is a photo of bamboo and highly figured walnut units with the taper cut into the body. The walnut unit is 1" in diameter and the bamboo unit is slightly smaller. Both are 2.25" long. The 18650 battery is for size comparison.
Here is how it looks on a mod box.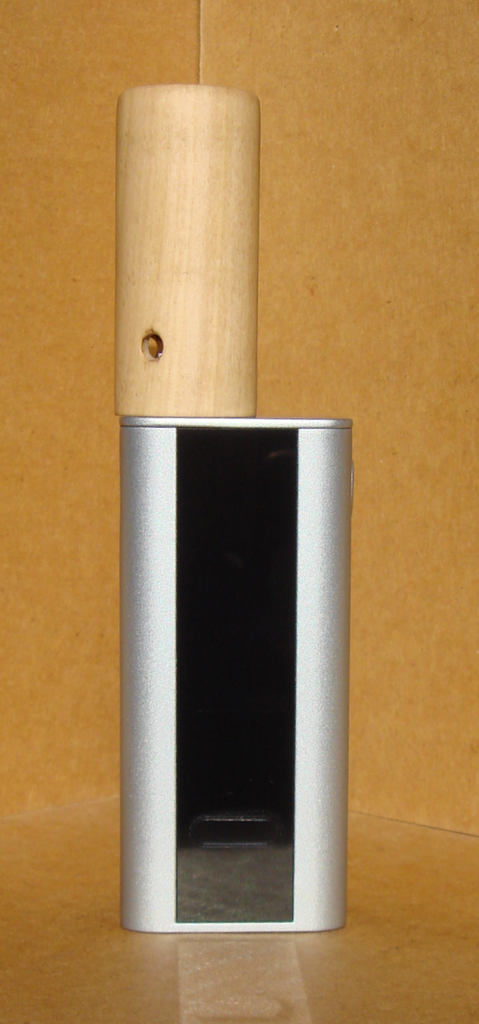 The mod box should have a capacity of 50 watts or more for best performance. My preference is for a volt / watt regulated mod box so that it will automatically adjust the voltage to maintain a set wattage. The heater cartridge resistance changes as the temperature changes, so it is nice to have the voltage control to maintain a constant heat output. Battery status and low voltage protection are other nice features of many mod boxes.
I'm looking at some side by side mod boxes that will accept a 1" cartridge to keep the profile low.
The iHeat 510 cartridge will also work on a simple mechanical mod, but requires manual temperature control.
Contact me at
alan@toasty-top.com
to get on a waiting list for one. It is the same list I am using for the Heat Islands, so you will have a choice between the Toasty Top, Heat Island, or Insta Heat when I arrive at your name. The only cost is your patience.
There are a few all wood units in the hands of some beta testers, so I hope to get some feedback soon.