Well-Known Member
Accessory Maker
Some of you may or may not have seen that I have a thing for odd ideas and most of them revolve around vaporizers and wood. How can you not love wood. Even the humble shipping pallet has a place in my heart. It has to as my shed was built with them.
I've been mentioning that at some point I will be selling Vapcap stems for too long now and today as I've been asked if I'm ready I feel I should give an answer.
Yes, I suppose I'm as ready as I'm ever going to be.
There have been obstacles in my way since I decided to go ahead and get my Accessory Makers account. No excuses just facts. Normal work, the lack of tooling, materials and family issues have all managed to cause me one problem or another so it's been slow going. I am also not the most confident of people when it comes to my abilities to turn out objects which I would be happy to pay for and more important I would be happy to sell but if I don't try this then I won't know if it's going to work.
Vapcap Stems.
At this moment in time I will only be selling stems the Ti tip and cap will need to be added separately.
The 7 fin adds 28mm to the overall lengths and the 5 fin 25mm. If you have a 5 fin it will work with the wood but the digger outer sits snug on the brass. If you want something for a 5 fin tip let me know.
So in amazing technicolor VC stems, some already spoken for and the rest all require a small amount of hand finishing. They are between 95 and 100mm long, 4" ish. Nothing is exact, I let the wood and mood dictate where it goes.
Teak, this wood was reclaimed from a local Asylum which shut many years ago. My friend said there may be a bit of madness still in there.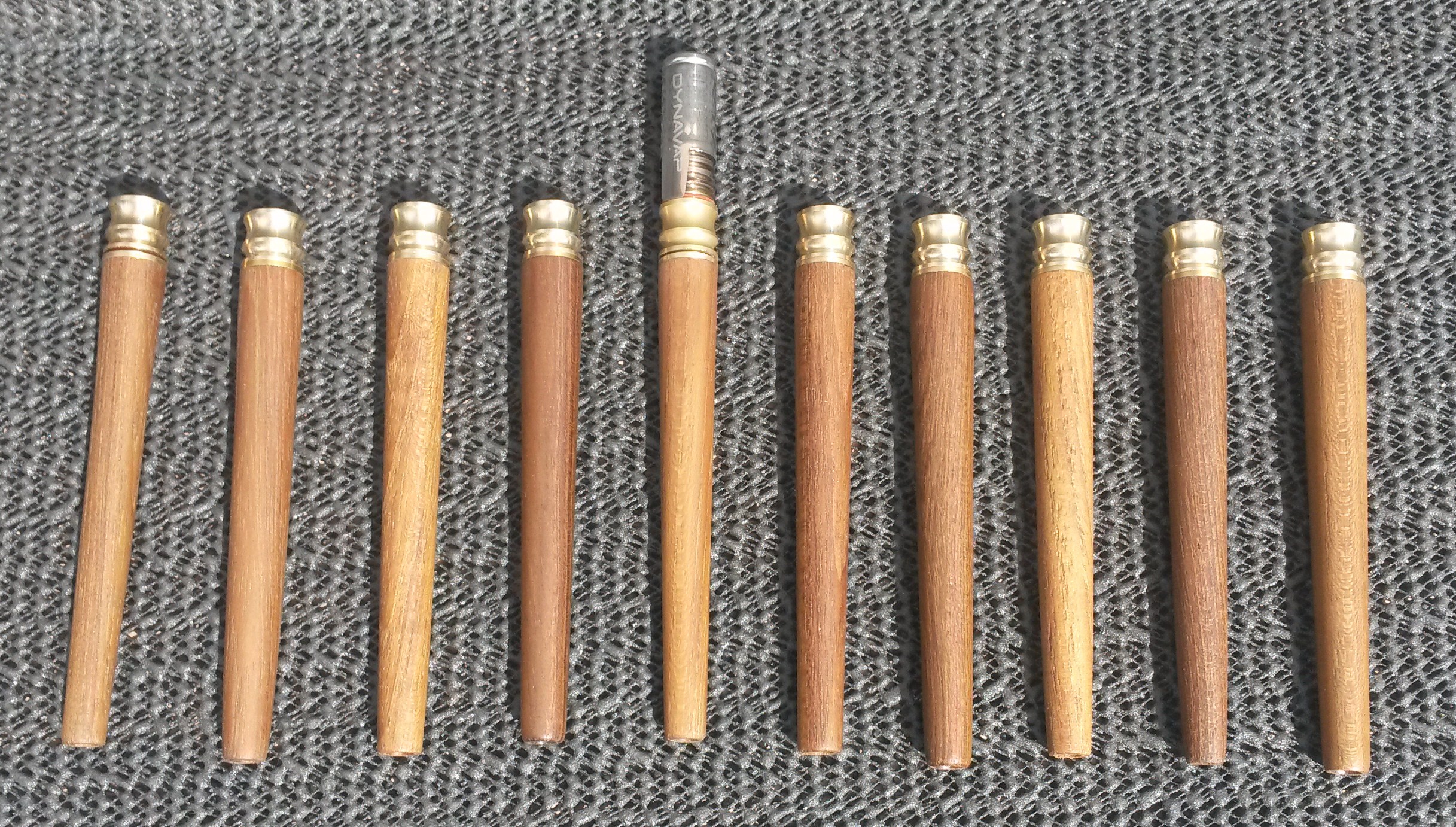 Olive, a chopping board which caught my eye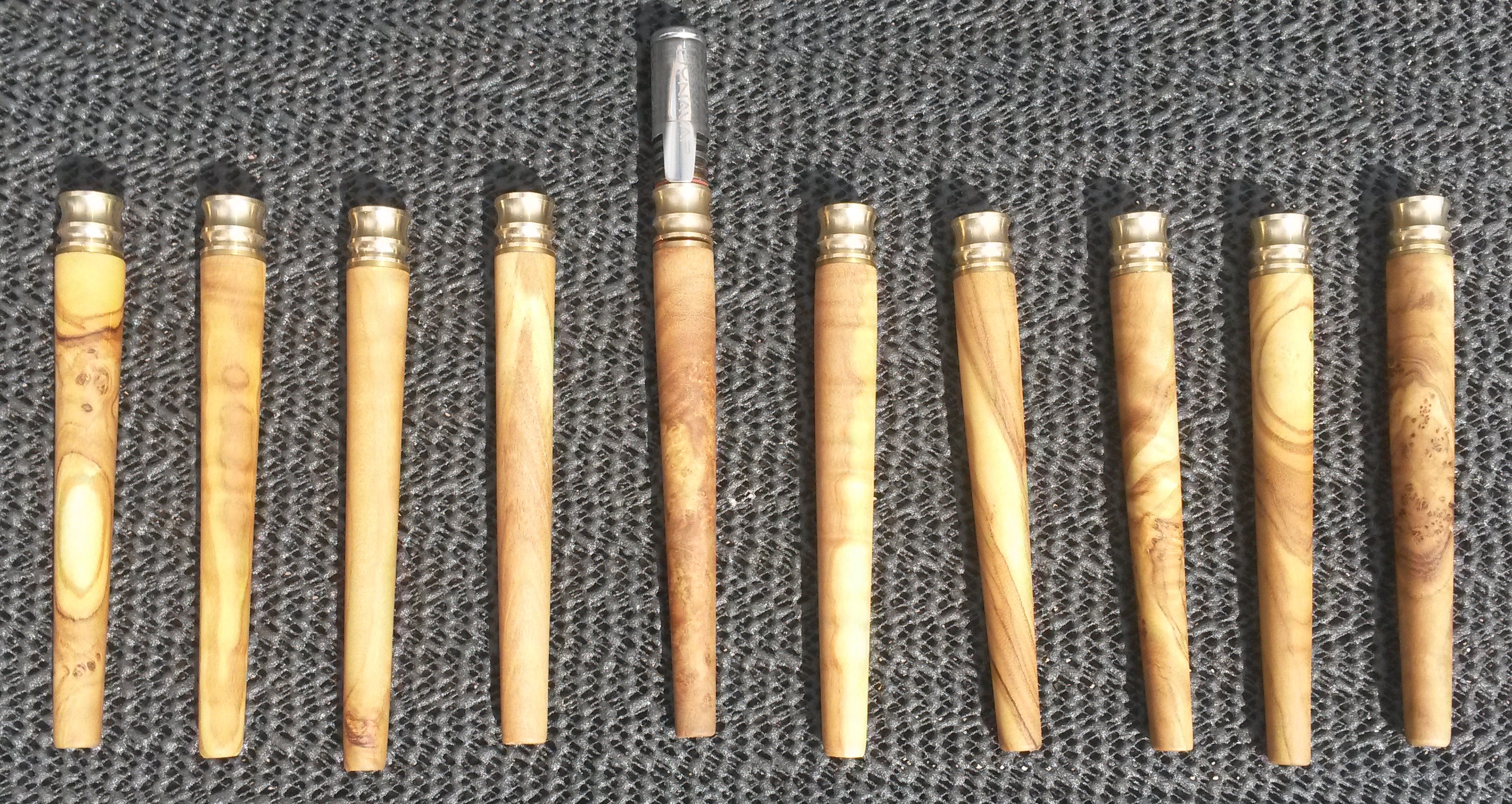 The internals are put together like this for ease of cleaning. The 316 SS condenser has a 2mm hole in it, VC standard size, the wood can be custom drilled or 2mm. The rolling paper mod I posted about can be done over the condenser 'carb' keeping it out of sight. The paper does collect reclaim and will need to be replaced with use. The brass is lead free. Once used the cap and tip change color so there is not so much contrast between the brass and VC parts.
All the wood stems are approx. 10mm longer than the condensers. This keeps a sleek line. I have been damping a q tip with Iso and just wiping the inside of the MP end to clean it. The rest of the metal parts can be soaked. The red O ring you can see is to stop over tightening of the two parts. The brass in the wood stem is an interference fit I didn't want to use any adhesives and if they are over tightened you run the risk of the brass spinning in the wood when trying to undo it the ring helps prevent this. I only have red but will look for some black O rings before sending any out. I have been to see a CNC machining firm down the road from me. They are a dying breed in this country. He is willing to try and make the brass bits to my specifications and in my choice of materials. This adds to the cost of a 'wood stem' so for now I can only offer this set up. I am looking at and am open to ideas to do things differently.
My DD VC is this SS version with a lacewood MP. It's 110mm long.

This blackwood is headed stateside to my first customer and customs guinea pig. Once it's safely in his hands I will be willing to send more international orders out. It's all new to me and I need to make sure they get to where they are supposed to be going. Again any advice and help on this would be very much appreciated.

I've had to look at things differently since I started this. Not everything I make will be to everyone's taste and somethings I may be asked to make will not be to mine.
There are also the needs of the MMJ users. Not everyone is able to do the things others take for granted. So as an experiment I did this Thuya burr one. It's longer and fatter making it easier to grip and spin. 110mm long and 15mm at it's widest. I am also looking to make a stand/holder/rest type thing that will hold the VC in place so it only needs to be spun in the flame rather than be held and spun.

30 odd years ago I started out my 'dope life' with a chromed brass pipe so I just had to do a VC pipe.
The wood bodies are 60mm tall and the removable stem is 90mm long. The top right hand side is wenge and the lower one is black palm neither of which have worked very well. The palm has cracked and would need stabilizing with adhesive. Not ideal and a shame because it turned out well. The wenge may have a crack in it as well. I would be happy to do them in hardwood and will try the palm and wenge again as it may have just been those particular blanks. Blackwood MP with a short SS condenser inside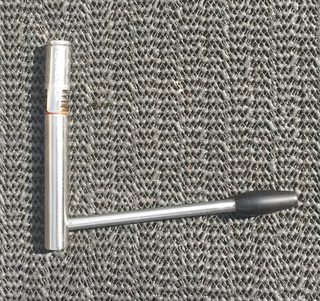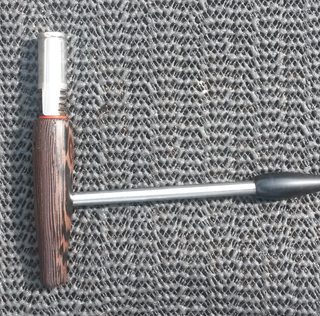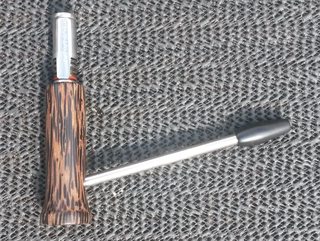 Other stem ideas some which may and some which will never be re-produced.
This SS and teak one I've had a go at is going to be done a different way, again it's a shame as this is really lite and well balanced. It's actually two pieces of metal where the VC tip sits in and the outside diameter is smaller than the Ti tip. Very lady like and was done as an experiment for one who asked. I may try this again at some point as I have another option using the same tubing.

This is a glass tube I got and made an oak sleeve for, I liked the idea and will probably be open to do some more. With or with out holes in the wood. They do not fit on the VC glass. The 'carb' is raised and would need sanding down possibly along with the flaming to the end of the tube. 76mm with a SS condenser. I drill the 'carb' hole and flame it after which is a hit and miss affair but adds to the fun. No loses yet.

A first attempt at a barley twist this was made before I had my VC stuff in hand.
Apple wood and one of my first attempts designed for the 5 fin. Chillum style for us older folk.
I heard the 'click, click' and thought it's off in the fire. I switched the lathe off and I just couldn't burn it. It's a true 'one of a kind'. There was no evidence of what was inside until the hole appeared. To me it's a true reflection of how beautiful wood can be and apple mellows so well.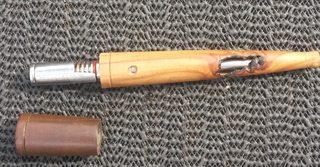 One of the tastiest and tastiest looking stems I've done. Licorice one of those 'why not' things.
I still can't get over how well it turned out. I had little piles of licorice dust on the lathe and had to have a dab every now and again.