You really like the tbucket better than the Dcup?

Why do you think the performance is that much different, if I may ask please?
I do like it better! Or rather, my lungs like it better and I have to obey that. I'm producing way less phlegm after a dab, my lungs are reacting less.
But how that translates into a quantifiable degree of performance difference might be quite personal to me. I'm trying to temper my reaction to the tbucket with the notion that maybe my lungs are finally improving on their own (extremely doubtful

)? Maybe this is just a particularly great batch of rosin (again, doubtful)?
Exhibit a:
Its a good bit bigger and no lip, so the dish is wide open.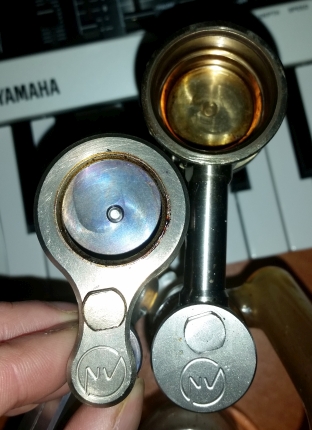 EDIT: EDITS are likely

EDIT 1 - I think the tbucket keeps temps more stable, its not heating the glass due to its extra size. Each dab is only losing a mere 3 or so degrees on the controller, tho I forget what it was like with the dcup. Obviously this extra size maybe stealing terps/vapour and making things smoother as a result but I've upped my dab size so I dont think its just that making it smoother. I dont remember 410f producing quite this much vapour on the dcup.
Last edited: