Well-Known Member
Manufacturer
I'd like to talk about developing a more mindful approach to the vaporization ritual.
This is a rough idea I've been chewing on for a while... and I'm taking it to the forum to help refine, flush out, make better. I feel like this idea is best approached through the hive-mind of our community.
The Inspiration
In Japan there are three classical arts of refinement; Ikebana (flower arranging), Kōdō (Incense), and chadō (Tea ceremony).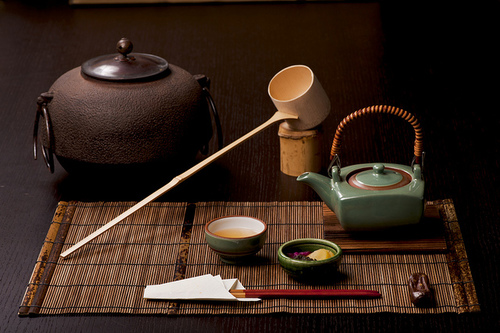 These arts are designed to encourage a mindful state, to be in the moment. The rituals and objects involved help to quiet the mind and give the most ideal setting for appreciating things like nature, tea, human interaction, fragrance, etc...
These practices have been highly refined to bring about the most happiness in life through a deeper appreciation of our environment.
The Problem
The cannabis high itself is a quick way to achieve mindfulness. We are forced into a positive mindset. Why bother with enhancing what is already so good?
In my experience, consuming cannabis is often little more than a hurried "get down to business" sort of ordeal. It's like the cheap drive-thru coffee for the single goal of getting that caffeine kick.
Because of the illicit history of Cannabis, I can see why this is the case. Usually cannabis use was restricted to hidden places, and the idea of getting caught wrapped the whole experience up in a bad, rushed vibe. Not to mention the quality of cannabis flower... and how most of the time it wasn't something that encouraged much appreciation... but more so disappointment, heh.
But now that cannabis is becoming legal, more culturally accepted, and the available strains has exploded, why do we still continue those same habits?
I should note that this is merely common to my experience. I know that many of you experience a different side of the cannabis culture.
The Why
I feel like a mindful approach to vaporizing cannabis can reduce anxiety, lead to a deeper appreciation for our environment and human connections, and enhance its medicinal/positive psychoactive effects.
Do a little research into psychedelic drugs, and you'll quickly realize the importance of "set and setting". That is to say, your mindset and environment. These two aspects are known to greatly influence the psychoactive effects of whatever psychedelic drug you're taking.
It only makes sense to associate set and setting to cannabis use as well.
The How
In the previously mentioned Japanese arts of refinement, mindfulness is encouraged through the ritualistic use of objects. These objects (tea bowl, scoop, scissors, incense burner..etc) are designed to help frame and showcase the natural elements (tea leaf, fragrant woods, snacks, flowers...etc).
I envision this framework applied to cannabis vaporization.
It's already in use in many ways. Many of you here have "vape stations" where you dedicate a space to vaporization. Conscious of it or not, having a space like that is a great way to encourage mindfulness. It's like a little oasis.
All of the vaping utensils out there also encourage mindfulness... the little scoops, and funnels and loading capsules... all the... things. Through their use we go deeper and deeper into the ritualistic aspects of our practice. There mere act of slowly sorting, grinding, scooping and loading cannabis is a great way to force the mind into being in the moment.
The vaporizers themselves, of course. If we compare it to the tea ceremony, the vaporizer is like the tea cup, a vessel to focus our senses.
There is room for a whole set of objects and rituals, tailored specifically for the art of vaporization.
Trays, scoops, storage canisters, loading capsules, etc...etc... Crafted in a way to connote the most positive vibes, whatever your personal preferences.
Social rituals as well... games where you get to guess the terpenes in different strains... or try to guess the strain based on what effects you're feeling. Games developed to make you stop and think about what you're tasting, smelling, feeling...
I see a space, akin to a traditional Japanese tea house, where you can go to be fully immersed in the experience. Whether this is just a small space like a desk top or a little box on the floor... or a space outdoors.. and little travel kit to help set the scene out in nature. Like a cannabis picnic, haha.
Final Thoughts
I really don't know where I am going with all this. It's just a vibe I've been feeling... I keep noticing the similarities between cannabis and things like tea, coffee, wine..etc.. I can't help but think that there is so much room to evolve. Cannabis is relatively new, and we are all finding the way forward. Personally I am trying harder to appreciate cannabis and ditch a lot of old bad habits.
I also don't want to come off sounding elitist. There is no ONE way to enjoy cannabis, everyone is different, and so everyone will have their own rituals, that's totally OK!
This whole post feels awkward to me, blurry... without a point and with no conclusion or direction. I hope to flush it out over time and keep adding my thoughts as they become more clear.
And I would love to hear your thoughts. What sort of rituals do you incorporate into your vape time? Do you notice any positive effects from these rituals? How about your mind... does the practice of enjoying cannabis put you into a more mindful head-space? And what things do you think you could change... or put more effort into... to go deeper into mindfulness?
Instead of my usual, load it, hit it, and toss it, method of using my vaporizer.. I am instead going to be dedicating more time and thought to the whole experience. I'd like to post photos of my "vape station" once I get it set up, and make note of any rituals I add to the experience... I'll note any positive changes to my mindset... and perhaps start to develop, as a community, a "Way" that leads to overall health and happiness through the appreciation and use of cannabis.