Manufacturer
Manufacturer
Hi friends,
Welcome to our new thread. A few of you might already knew us from our last project HERBIE.
Let's be honest – Version 1 was not ready for the market. We could make it work for ourselves, but a few of our customers struggled with it. At some point we even thought to dump the project.
Nevertheless, some of your suggestions couldn't let us sleep, so we took our chances and gave HERBIE a full rework.
We are incredibly happy to finally present Herbie V2 after about a year of hard work, countless cups of coffee and "creativity bowls".

So what is the Herbie V2?
The Herbie V2 is basically a 510 dry herb vaporizer. This means it needs a power source and for this any e-cigarette box mod with a 510 thread can be used.
Here - for example- Herbie V2 is mounted on a Mechlyfe Paramour SBS 21700 box mod.

But Herbie V2 is not just any 510 vaporizer, it comes with a bunch of features.
Let's run down list:
- Dimensions:
We recognized that Herbie V1 was huge and there is a lot of room to shrink it down. Herbie V2 itself has a diameter of 25mm, which makes it 3mm thinner than the V1. In height we could save more than 40mm. As you can see in the drawing the final dimensions of Herbie V2 are 25mm in diameter and 74mm in height. But keep in mind that you will still need an e-cig mod.

(For those who are familiar with the Herbie V1. We shrunk the outer dimensions and the herb chamber but the heating chamber has still the same size)
We would recommend to use the Mechlyfe Paramour SBS 21700. This is a side by side mod which can carry up to 25mm atomizers in diameter and has a powerful battery cell. So it is perfect for the Herbie V2. Herbie V2 in combination with the Paramour SBS 21700 is even smaller than the most portable vaporizers. (See a comparison below

)


- Changeable battery / runtime:
With the Mechlyfe Paramour SBS mod you can use 21700 / 18650. And even better the battery cell is changeable. So you will about never run out of juice if you carry a second battery cell with you.
Since Herbie V2 is an on demand convection vaporizer, a single charge of a 21700 battery cell will last at least for a day.
-Usage:
And how is the usage of Herbie? It's very easy. Just pull up the top cap, fill the herb chamber (the material can slightly pressed but not too tight, since the air has to flow through), push the top cap back on. Herbie V2 is ready to go! Here you can find a video, but please don't judge us for video quality. I am still learning... :/
As it can be seen in the video Herbie V2 is an on demand vaporizer. This means it has a very low heat up time. Just press the fire button, wait for about 1-2 seconds, start the inhale for about 5 seconds and finally taste the terps.
-Herb chamber size:
The size of the chamber is 17.7mm in diameter and a height of 9.5mm. So it is possible to fill Herbie V2 with about 0.2 gramms.
(For those who had seen the Herbie V1. Now there are no more loose parts, which can fall out during reloading or cleaning. Also there are no more threads, which were kinda annoying.)
-On Demand, Rebuildable Coil, Mesh Heating Element (But every Coil can be used):
As already explained the Herbie V2 is an on demand vaporizer, this means it is has no heatup time and is ready to use in about 2 seconds.
This very fast heat up time can reached by a very efficient heating Element. After lot's of tests of different meshes, coil material and different shapes it was possible with the help of a user to find the best balance between ohmic resistance and thermal mass. It's the double M shaped mesh. It is stainless steel 304 and has a 30 mesh.


But if you are not happy with our recommended setup, feel free to find your own style which works best for you! Herbie is rebuildable and can be used with any kind of e-cig coils.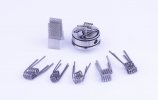 -Cooling Glasballs
Who wants to inhale hot vapor? I guess no one. For this reason, the inside of the Top Cap is designed to be filled with 2mm glass balls.
These glass balls absorb the heat from the vapor and cool it down for a smooth inhale.

- Convection / Shell in shell / efficient airpath
A view might think, that the Herbie will get very hot while usage because it is made of stainless steel. But with our well planned airpath the vaporizer will stay cool.
Since the air is sucked in at the top and flows down in the outer rim the cold air is preheated during absorbing the heat from the housing before it hits the heating element. It means that this shell in shell design works like a heat insulator and the housing of the Herbie V2 can't get hot. It will get warm but not uncomfortable hot.

As you can see Herbie just heats up the air and not the herb chamber. So it is mainly a
convection vaporizer
. This means 100% pure flavor.
-Adjustable Airflow
The amount of airflow when vaping can greatly change your overall experience. For this, simply turn the top cap to open or close the air intakes holes.
-510 Drip Tip
A 510 drip tip is a standard size at e-cigarettes atomizers. Personalize your Herbie with the Drip Tip you want. The drip tip is just pushed into the top cap and is held by an o-ring.

-Wattage Mode
If you want to use Herbie in the wattage mode of your e-cigarette mod then we recommend to start at
30 Watts
and inhale slow and steady for about
5 seconds
. You will taste your material but won't see any dense vapor. Then you can turn up the wattage or inhale longer for a better extraction.
-TCR Mode
We prefer to use the with the TCR mode. This means the temperature controlled. The fact, that heating element is made of stainless steel 304 we use the value 0.001020 for TCR, a maximum power of 60 watts and temperature 175 °C (347 °F) at the Mechlyfe Paramour SBS mod. (see the video above)
-14.4 WPA
Bong is never wrong! For this purpose the drip tip has to be pulled off. The 14.4 water pipe adapter of the Top Cap can be used.
-S&B Dosing Capsules
Reloading the Herbie V2 is fine if you are around your house or at a desk at home. Imagine you're at a party and you have to pull off the TopCap, empty out the used herbs, open a grinder and reload Herbie. This is possible, but it is very cumbersome.
Exactly for this problem, the herb chamber is designed so that the Storz and Bickel Dosing Caps can be used. So only the capsule must be changed on the way and the Herbie V2 is immediately ready for use again. A capsule can carry about 0.17 gramms.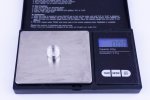 And here's a little demo how to use Herbie V2 with the dosing capsules.
-Cleaning
From time to time it is necessary to clean the Herbie V2. Since it is nearly fully made out of stainless steel, all metal parts can be cleaned with 99% iso. After cleaning just reassembly the Herbie V2.
-Scope of delivery:




-Price
Since the Herbie V2 is now smaller and has less parts, the we could reduced to 100 €.
-Launch date:
We are planning to launch at Christmas and we are sure that Santa will bring a discount code for FC before then

But to be honest, words can't describe how proud we are to introduce to you the new HERBIE V2!
And please feel free to raise some questions!
Last edited: