Not really sure if this is supposed to be here but here goes! IF the Mods see this and feel this is out off place plz feel free to correct it.
Hello guys been a long time lurker, again, for some years trying to shake off VAS but yet here I am again.
I have been toying around with the Pyrovap for 2 weeks now ready to give some toughts about it.
Like the Vapcap it is operated with a triple torch lighter which makes for some really fast heatup times.
6 sec initial startup/heatup and 3 or less when reheating.
The System is very well tought out but it does still need more improvement.
THe filling port is located under the silicone mouthpiece just before the air inlet. Remove the mouthpiece from the stem and you will see it. With the Pyrovap comes a little white bottle (plastic) Where u can load up your favorite e-juice and afterwards put it in the Pyrovap, the bottle has a little metallic tube very thin that fits right in the fillingport

.
I am not sure about how much you can fit in exactly but it is quite alot. One would say 2 ml but thats prolly too much... more like 1.5 ml or something.
Anyway this is more then enough to last you a while depends on the usage etc. Now how this works, if you messed around with your juice try to be as clean as possible the area around the fillingport needs to be clean of ejuice. afterwards you replace the mouthpiece on the stem again and slide it back until u see the air inlet line up with the hole in the mouthpiece.
I will try and get pics up later today about this. How it works exactly.
Now you are ready to rock! Hold it down with the metal cap pointing downwards So it can start working. You will see 2 O-rings with a white ring in between near the cap. This is the wicking system or drip system. I thought this was very well thought out by George! You can activate the dripping make it go a bit faster by starting to heat the cap until it clicks.
Keeping your eye on the O-rings you will see Juice starting to form wanting to go downwards to the cap and the Wick/gauze that is placed inside the tube. (Cap should still be pointing downwards to aid the drip)
Meanwhile u can start to puff on it a little bit to check if theres allready vapor comming out.
This part is a little slow and might need improvement. But all in all this is great stuff! I wish sometimes when i think about these vapes i had the kind of thinking cap these guys(George) have. Besides the point tho.
To go on, Slowly but surely fat clouds will start to produce depends on how fast the drip fills up the Gauze. Taste is, hmm its quite good. With the glass airpath etc not sure how much it affects taste because the taste from my E-ciggie seems to be almost as pure. One thing tho, try to align the lighter with the tip of your cap front 5mm. And DO NOT OVERHEAT. if you do that you're fine. When you hear the click? move lighter away dont wait for it to go out. move it away.
Taste will be pure and stay pure.
I might make a video later on about how it works exactly if needed.
When you dont need it anymore, just wait for the second click after using it and u can put it back in the carrying case it comes with no problem. Funny part is the dripping stops as well

. This drip system is somethign else. It intrigues me, let me tell you first time i loaded pyrovap up i did it wrong way and had to clean it out ruining the whole system. Took me days to get it back together again. But with some help from George It got back together again the way it should so no biggy. You know this was actually fun.
This whole thing made me wanna see it back together even knowing how fine and small work this vape is, i still made it getting it back together, it was fun to do!
The o-rings need to be in its correct place on the inner tube otherwise the thing won't work.

[/IMG]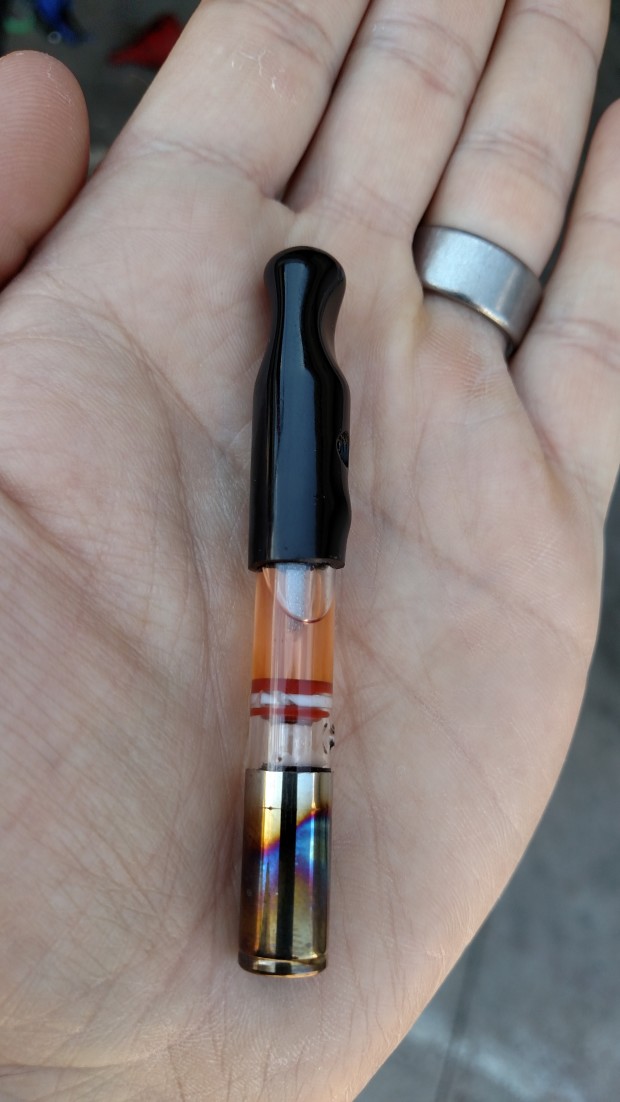 this is a pic from george but you get the picture i guess about the O-rings etc. I will put more pics up with mouthpiece removed etc.
All in all I like this little micro Cig. Dunno what else to call it hehe! Its fun to play around with as you have to light it etc feels like a real cig sort off but isn't. Easy of use is right up there with the Vapcap.
Just do not overheat! Cannot stress this enough.
To go on, I am using this over my E-cig atm. I know what kind of materials this Pyrovap is made out off.
The other E-cig i have? not so much. I do not trust it.
The pyrovap can do just as much , is smaller to carry around pocketable, need a triple torch lighter tho, That is depleted fast. But i have loads of Butane so thats not a big problem.
The drip system is almost there, but not yet. i say it like it is. But i know George is aware of the problem and is also working on it.
It is fun to make it work and then use it satisfying results

And results can be very fine taste nice clouds.
thx for reading
KB