Verdant Bloomer
Manufacturer
The curious may wonder why I suddenly got a Manufacturer tag. ... After taking WAY too long, I am very happy to offer you ...(drum roll)


(rough prototype- finished product looks different)



Quartz Thunderbolt !


(affectionately also called

Quartz Thunderfuck

in honour of this forum)
CHECK MY PROFILE PAGE FOR PHOTOS (TO BE UPDATED)
(Thread will also be updated with photos when shipping.)




$100/$120 - €95/€115 PRE-ORDERS ! ETA: APRIL/depending on demand




The Quartz Thunderbolt is a unique all-quartz, metal-free, high airflow, high power ball injector herb /concentrate vaporizer available with a 19mm or 14mm male connection, to work with any standard injector glass bowl or suitable 18/19mm or 14mm adapter;

-designed to be heated with a chef's torch, with reliable temperature control options
-based on a simple but tried-and-tested-over-2 years concept
Pricing:
-V1- no lid - (similar to what you see in video) with optional titanium wire top screen: €95/$100 empty housing, €120/$125 including gems (various options)
-v2 -with perforated threaded quartz lid, gems and unprecedented flexibility (details TBA!): $170/€165
-a custom bowl designed for the Quartz Thunderbolt is in the works.

(These prices can only go up later so

order now!
I want to get at least 15 pre-orders before manufacturing more pieces or ordering the gems and accessories
)

The Thunderbolt v.1 is a one-piece injector housing with removable gemstones held in place by an integrated highly perforated quartz screen. The lack of a removable quartz lid at the top end is simply so as make this piece as affordable, as simple and as durable as possible. It will handle the repeated thermal shocks of being fired at, and will stand a good chance against an accidental drop on a hard surface. The more machining is done on a quartz piece, the more fragile it gets... This piece is mostly hand-made with the screen laser-drilled with a CNC machine for a uniform airflow.

-made of 100% quartz and containing quartz stones/balls and ruby balls, and allowing for easy temperature control without electronics. With the Quartz Thunderbolt's design and the recommended gemstone configuration, the ruby's naturally present colour-changing behaviour happens to be an excellent indicator of the right temperature for vaporization.

-Open bottleneck top allows open airflow and keeps gems in place in the main body of the heater - can be optionally screened with included titanium wire ball. This part also cools down faster than the main body, providing a handle cool enough to pick up with bare fingers about a minute or two after finishing a bowl.

-dimensions carefully considered to promote a combustion-free, user-friendly experience while allowing for raw power if and when needed.


Designed for:
-Gas Efficiency
-Vapor and not combustion
-Airflow
-Durability
-Affordability



DETAILS


What you see in the video is the quick and rough prototype. The final product will not feature the two rings you see around the main tube and will have a straight tube rather than a conical chimney at the top.
Unlike all but one (coil-heated only) product out there (that I'm aware of), the Quartz Thunderbolt -from now on also referred to as QT- does not have a metal screen under the gems to hold them in place- a metal screen which would get very hot - which I find undesirable ( no doubt this has been discussed somewhere on this forum

). The option of a metal-free air path provides the purest possible vapor and the quartz unlocks the flavour and potency of your material.


There are larger ruby or quartz balls snugly packed together at the top of the main body partially blocking the chimney hole, usually preventing all but a few of the smaller gems from rolling out if the piece is accidentally laid on its side or inverted. However, with a base stand ( I will have these available when the first batch is ready, along with the recommended gems) it is easy to keep the piece upright and keep the gems in place.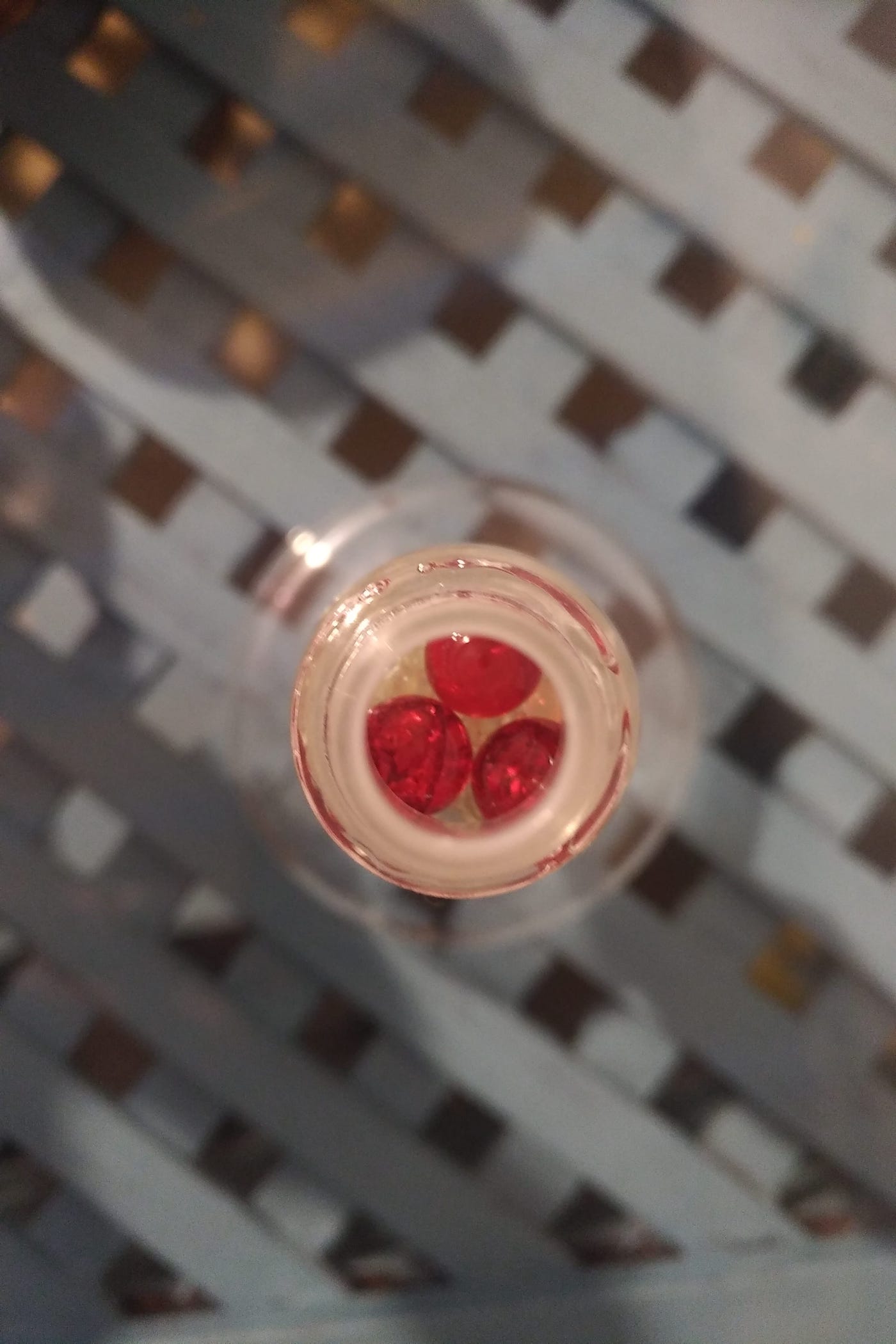 The v.2 design with a removable perforated quartz lid (and more) has been OK'd by the factory, including a 14mm version, and will be manufactured if there is enough interest. The price with gems is expected to be $170/€165. It may also be shaped to be more compatible with 25mm coils if there is enough interest. (feedback required)

I do not personally use a lid or top screen and have been doing fine with lid-less injectors for the last 2.5 years... however the novel, TBA feature of the v2 will be very appealing to many here judging by what has been discussed.


Neither version is a copy of an existing product but has unique features and is tuned for torch use.

For those who want to take no chances, the v1 comes with a pre-fired titanium wire ball which acts as a screen at the open top end (which will stay at much lower temperatures as it does not need to get fired at) and can be kept in place permanently.


A spare Ti wire ball will be also included. Single-weave titanium screens available in the USA should work ( may have to be cut to size). Dynavap's titanium Dynacoil can be used, as the chimney is the same diameter as the Dyna bowl! (Final product has a straight tube)- pictures to follow as soon as I have all items in my hands. To repeat: a metal screen is not necesary- this is only suggested for safety against accidental drops.
TEMPERATURE CONTROL



Quartz is very forgiving and provides a soft heat that will not burn your material unless you really push it. The distance of your material from the heater is critical here.
The QT can be provided filled with the recommended 3mm quartz beads and 6mm ruby balls- the latter is essential for consistent results- read on!

There are two reliable ways to achieve tasty and massive clouds of vapor without combusting:

1-The inclusion of rubies provides the most elegant and reliable way!
Once the rubies have gone a very dark red, this is your queue : this is the equivalent of the click of our favourite lighter-fired portable vaporizer.... You are around the right temperature to stop heating. Fire for another few seconds and you are ready to inhale cool and tasty vapor. Or .... continue firing for up to another 12 seconds for the Thunderfuck experience.... ( a good bubbler will be needed.)
The actual timing will of course depend on your rig, the depth of your bowl, and your herb. If you keep these things constant while paying attention, the timing will soon become second nature. For very dry herb, use less heat.

2- You can use a digital thermometer to learn how to drive the QT. It'a a little like training wheels. After a while, you learn the timing and the thermometer becomes obsolete. The BBQ thermometers with steel sensors seem like a better choice than IR thermometers to me, but you may want need to look for one that can go up to 500C. Most go up to 300C which may be adequate. I used an IR thermometer and only just discovered the BBQ devices. The frosted chimney top of the QT is frosted in part so as to provide an opaque surface that cheap IR thermometers can read from, as they do not work on transparent items.
Even if you have over-heated the QT a little, avoiding combustion is easy with a little technique which eventually becomes second nature. Basically: inhaling fast and hard brings cool vapor, slow and low brings heat.

What you see in the video above is what I call flash vaping- surfing the temperature wave very close to combustion. At high temperatures, you must stop inhaling as soon as the bubbler milks up.


---------------------------------------



THANKS



I embarked on this trip over two years ago using borosilicate adapters and modified quartz bangers. This should have been made available much earlier but extremely unsavoury global affairs intervened with my plans....

Respect to all those who contributed to the refinement of the ball injector vape tech, since the colossal Glass Symphony. You know who you are, but Inverted, Hippie and Stuey from this forum must be thanked for their work/ contributions / advice/ sharing/ info and links.

A big thanks to all involved in running this fine forum to which I am making this available exclusively for now.
Last edited: