NewVape 30mm Obsidian dish mirror finish. This is a discontinued legacy piece. Only for the true connoisseur. Everyone who has ever used one knows it was the best of all ... doesn't crack like sapphire at $200 and cleans up way easier and better than sic at $60... I paid $160 for this one.
but 710 quit making them and aren't telling what/how to make more.
$125 + $10 shipping conus. Paypal ff (add 5% for gs), venmo, zelle.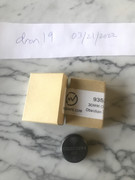 Last edited: