Hey there

@invertedisdead

!

Ever since I got into enails for dabs I've been playing around with DIY enail flower vapes. I remember turning a titanium nail into basically a flowerpot. That's what made me eventually splurge on a flowerpot, since I loved the whole concept enough to want one professionally made. I always played around with the idea in my head about an enail based glass heater, and ever since the SSV mod came about I wondered about using pearls as well. Never more than a thought in my head tho, so its really cool seeing you actually making something similar, and how well it actually works!

Just curious- why not make it an 18mm female attachment? That way it can connect to am 18mm male adapter with a basket screen load, or joint load. This would also bring the heater a lot closer to the herb I would think. It would also make dosing a lot easier.

You've inspired me to actually play around with some ideas, but I have no idea where to get terp pearls that are not around $10 a peice. Lol I have some cheap 6mm quartz pearls, but they're probably too big.

One more thing. I was looking at an 18mm old style glass bowl from New Vape... wouldn't that make a good one? 20mm coil fits nice (3 wrap) right under where it gets fatter after the joint, and would just need to be tightened a little at the bottom wrap. Fill it with pearls, and cap with a basket sceen - then if it gets hot enough, you could do dabs on top of the glass screen!

not sure it is enough mass tho. Maybe some more beads can go in the bowl, and then the bowl capped with a domed screen or something...

Anyway, I really like where you've taken the whole enail glass heater adapter idea... i definitely wouldn't have thought to use a whip adapter - pretty genius way to trap the heat more for sure, but also to help stabilize the coil.

Cheers!
Thank you for the kind words!
So when it comes to female joints: in the original design, female joints weren't used because the outer diameter on a 19/22F is larger than the 20mm coil which slips on from below. If I do decide to revert to a coil-on-top design (my very first, original e-nail vape design was actually a coil-on-top) a female joint could definitely be implemented, and would bring the herb closer to the heat source, though I do think I prefer the male to female glass aesthetic. Conversely, I do like the female joint in something like the LSV where the glass is fully recessed, that looks super clean. But so far I've opted for the classic M-F since this is an "open kitchen" experience type of vape!
Now if I did a CNC milled design (considered, there's a few great benefits to that approach too; but the costs would goes up for sure) I could recess a female joint taper, maybe even inside something like this 1 piece vape design with built in coil shroud/shield like this rendering I had shown to
@lazylathe
Imagine this, but with no joint sticking out below, then you could just plop that heater head on a M-M + basket screen and it would look pretty sick!

Yeah this design is a little "ornamental,"
I was trying to add some bling!
One way which has been mentioned in this thread to bring the greenery closer to the heat source in the male-female configuration is to shorten the male joint and move the screen closer up, or even lodging the screen in the joint. This was another feature on my original design hanging on my wall that somehow got overlooked completely during my prototyping. Originally I was thinking in that direction just to not make the bowl so deep (an issue with some vapes that use glass bowls) but additionally it seems to improve the experience in a few other ways.
Which Newvape bowl are you referring to, is it this one? If so, the biggest problem with that is the long gap from the body to the end of the joint.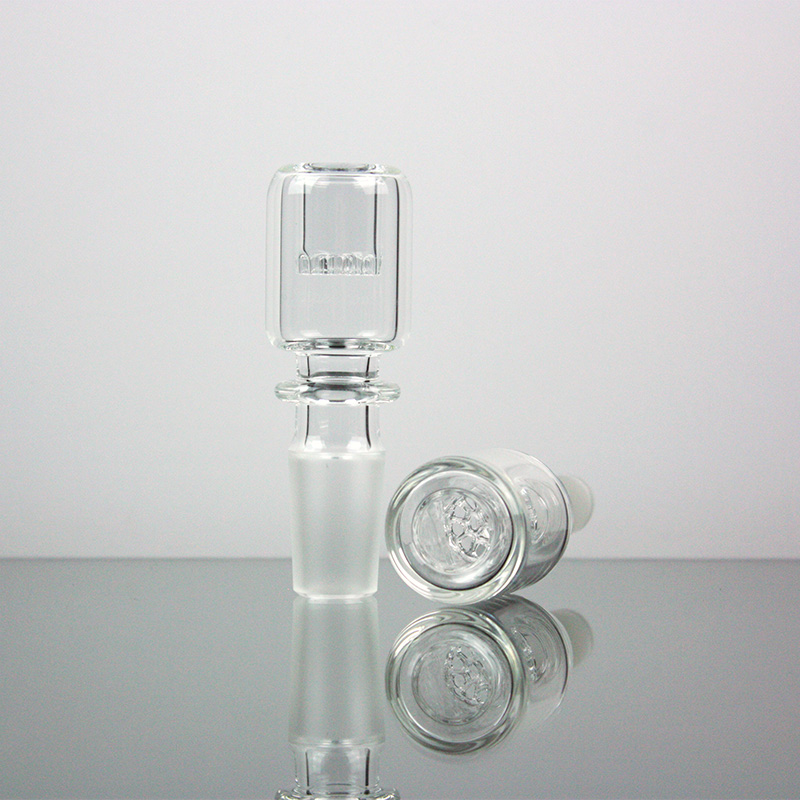 Cheers to all,