vapor junkie
Staff member
I'm sure most people here have one, but here's a thread for the hell of it.
Herb grinders do what you would expect, two sets of teeth tear the herb into smaller pieces, perfect for vaporization. A grinder exposes more surface area than chopping with scissors and is a lot easier than ripping up the bud with your fingers.
Another great feature some grinders have is a screen that catches your bud, but lets the small trichomes fall through and collect in a bottom tray. These wonderful resin heads stick together to become what is known as kif. You can sprinkle it on your herbs to vaporize as is, or press it into hash.
There are a ton of hand grinders out there and most work on the same principal. However, there is a big difference in quality from the top of the line to a cheap acrylic grinder. A good one will probably last a lifetime and is a worthwhile investment.
Some features you want to look for are a
magnetic top
which keeps the freely rotating top piece from falling off. As well as a
nylon gasket
, which allows smooth turning of the top piece and prevents metal on metal contact.
Couple pics. SSV crew threw this in one of my orders for free, works well.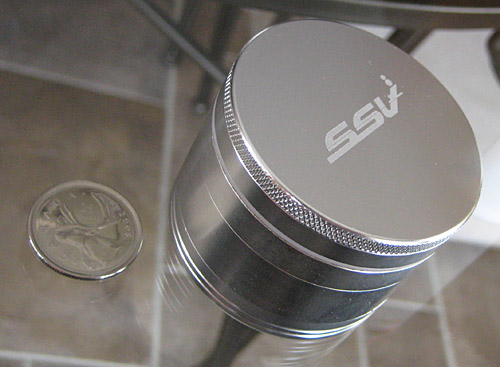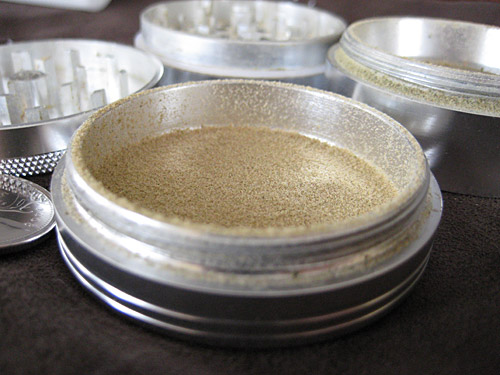 When you first get a new grinder, it's a good idea to give it a thorough cleaning to remove production residues. Dry grind for a minute (use some oregano or something if you want), then give it a thorough scrub with a toothbrush in warm soapy water. Shake/towel/fan dry and be sure to let it air out till there's no moisture left. Watch for small magnetic particles.
With 4+ piece kif collecting grinders, you can put a small coin or something in the screen compartment to speed up kif collection. Though this also means fewer trichomes in your ground herb and more plant matter in your kif. Shaking the grinder side to side (no coin) la sifter box is a cleaner method.
See also:
Herb Grinders
on Vaporpedia