Hi, I would like to start a Canadian CBD products area where people can post what they like, review items, talk about everything and anything CBD.
I use CBD to help with my anxiety, mood swings and pains. I use CBD oils (tinctures) mainly, but dabble in flower from time to time. Have tried gummies a couple times but so far haven't been top happy as they tend to taste stronger than their THC counterparts, at least to me.
Anyway, I'm telling you all this because I wrote a review for some CBD oil I was given by a friend. I didn't really know anything about it, but I was very impressed by it so I wanted to review it and share my thoughts on it and show the product off a bit. As I didn't know much about the product, I contacted the company King Arthur Cannabis to find out more info like how to procure it, it's price, etc... I was offered products to review in the future if they're happy with my review and I wanted to be up front about it. At the moment though, they haven't given me anything to review and this is just my honest thoughts and gathered information about the product. If they do, I will disclose it. This bottle was given to me by a friend and as such I am not influenced by any company. This is my honest and fair review of King Arthur Cannabis Full Spectrum Solventess Tincture:
Full Spectrum Solventless CBD Tincture by King Arthur Cannabis
Hello, today I would like to showcase a bottle of Full Spectrum CBD Oil made by King Arthur Cannabis. This bottle was given to me by a friend, I did not buy it or have it given to me for the purpose of this review. However, I HAVE been in contact with the company to get extra information and was told that if they like my review, they may decide to send some more stuff to test and write about. With that out of the way, I hope to bring you an honest point of view, but remember that your mileage may vary and that taste and effects can be somewhat subjective. Now, without further adieu, let's get to it.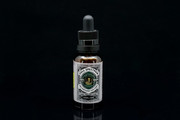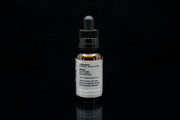 The bottle's label's are very nice. I'm used to seeing either overly plain labeling or labels that look almost like they're intended for children. This bottle has it's own personality. On the front label, you can see their logo. It looks very much like a King from a pack of bicycle playing cards, which I dig. My bottle is 1000mg, and it shows that under the King Arthur Cannabis logo. Also on the front label, it says the CBD oil was made using Hash Rosin, so it's made using solventless concentrate. Above the logo it says that the CBD oil is full spectrum as well, which means it contains other cannabinoids, but in small amounts. If there's any THC, it's a very small amount.
On the back of the bottle it has it's ingredients listed, which are: MCT Coconut Oil and Solventless Hash Rosin. Pretty straight forward. The dosage is also there under the ingredients, which says to place 0.25ML under tongue, wait 90-120 min and stop or increase dose as needed to get the effects needed. Also mentioned, each ML of oil contains 33mg of active CBD. Under that is a warning to store in a cool dry place, KEEP OUT OF REACH OF CHILDREN and to not use when pregnant or breastfeeding.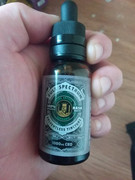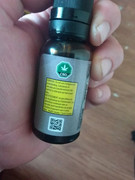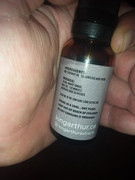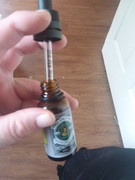 The first thing I noticed upon opening the bottle to see what the oil looks like was that it has a dropper built in that has all the markings already on it. No need for having to fiddle around with tip less syringes with this product, which is a mighty big plus. Also, because of its dropper being built in, you don't need to hide when using the product, no need to feel like you're doing something shady or be asked about your medical issues.
The oil is clear, which is normal from what I've experienced. Occasionally I will get an oil that has a slight yellow tint from oxidation, but this one was fully clear. The taste is minute. I can barely taste that there's herb in there at all. If anything, I taste the oil most, which has a slight coconut taste but is mainly tasteless. Both myself and my GF found that the effects took about half an hour to 45 minutes to take effect, and peaked within an hour after that. The CBD oil worked very well to suppress our anxieties and helped stabilize my GF's mood. We've had a couple deaths recently and the oil has been helping us ease back into normal everyday life.
The dropper secures to the bottle with a child resistance lock in place similar to how pill bottles open, push and turn. Just try not to push on the plunger while opening. 
This CBD oil has been one of our favourites in a while. We love that there isn't any overwhelming tastes (be it the coconut oil or the CBD hash rosin used) and the ease of use due to the bottles cap including a dropper. We also LOVE that it works faster than some other oils we've tried.
I would say that if you have been curious about CBD oil tinctures, definitely hunt this one down and give it a shot. I know that I'm in love with this tincture.
This is normally the part where I tell you how much it is and where to get it, but I'm not 100% sure if that would be breaking rules so IF you want to know more send me a PM and I'll gladly tell you price and location.
(A reminder, I was given this bottle by a friend and had to contact the company to find out how and where to get it. As in most places prices are against rules, i wont add them. If you want to know how much or where and how to get your own, send me a PM as I don't want to risk breaking any rules! Thanks, and apologies if I already broke any! Not my intention at all. Found a good product and want to share it with the world, or at least Canada.)
Thank you very much for reading my review.
If you have any Canadian CBD products that are available nation wide, that you use and love, join in and lets share some reviews, information, experiences, love and laughter!
Cheers!