mod note: Since FC is not an e-cig forum, when this thread was started (note the date) none of the moderators were aware that it advocates the use of completely unsafe practices. There are much safer alternatives today. Please do not use mechanical mods unless you are 100% sure about what you're doing. Please read our 18650 Battery Safety thread, where you can find more and safer info.
Hello fellow FC vapers out there! This is my first "how-to" post, hope it starts a good conversation

Actually its my first post ever!

Now lets get started.
I'm starting this thread to get a discussion going on the topic of using Advanced vape/e-cig mods(APV) to consume oil/wax and what equipment we use. I haven't seen any topics like this as most topics are brand specific (Cera, g-pen, ect) and I would like to topic to stay non-brand specific, but more on the different "form factors"
So what is an Advanced E-cig?
There are several form factors out there when it comes to personal vape pens, so let me break it down it to "ranges"
1) low range Key identifying factors: Small, cigarette sized e-cigs. These are the same exact size as normal everyday cigarettes. the tip typicly glows while you take a drag like a real cig. These are the most common among people trying to quit smoking (most fail, some will succeed)
2) Micro G/cloud. Key identifying factors

val shaped body, small, but more power than the above cigs. They even have wax atomizers!!! Sigh, if you are a true oil head, prepared to be disappointed. While yes they can "vape" oil/wax you can plan on taking several hits to feel good. For me it seemed like too much work, so the good ol' standby nail got used, this thing collected dust.
3)ego's, atmos ect. Key identifying factors: Round shaped, sharpie sized vape pen. These have the highest market amongst most e-cig vapers' These typicly use the standard 510 connection (common amongst most e-cigs) *this is the level I, where I was actually able to kick my cigarette smoking habbit* Now even in this group there are 2 distinct differences: set voltage and adjustable voltage. Adjustable, being the better as you can up the power/vapor production. Max power ~9-10watts
4) Advanced VV/VW Mods (Provari, evic ect) Key identifying factors: much larger than group 3 vaporizers, approximately 1" in diameter Standard 510 connections, digital displays, constant voltage or constant wattage control, user selectable. Max power 15-20 watts
5)Advanced Personal Vaporizer (APV)/Mechanical Mods) Key identifying factors: No electronics (displays ect) Now there are called Advanced, not due to their technological capabilities, but due to the fact they are for "Advanced Users" Meaning you need to know how to properly use OHM's LAW for building your own coils (I'll try and simplify this later), be aware of possible/potential dangers, and making sure your equipment its up for the task. Maximum "safe" power= 42watts Maximum Peak power = 75watts you can see the benefit here

For this thread I want to focus on group #5 as it, and trust me when I say this, can out perform your TI nial/globe setup!!!! Yeah, no 45sec hits to get a tiny amount of smoke. I'm talking big, give you asthma for 15 min, man up here it comes!!
Now let me start off with what makes the mechanical mods (APV) the "CHOICE" e-cig platform. Simple..... Power. With no electronic limitations, the mechanical mod is only limited by your batteries current ratings. For this reason, I use only the most powerful batteries I can. For most off the shelf mechanical mods/APV's that will be the good ol' lipo 18650 3.7v. Now even amongst the 18650's out there you are going to want a "High Drain" rated one. Look for AW IMR 18650s as they seem to have the best in class power output with a 10amp continuous/18amp peak output.
Armed with the specs of the battery, we can design a coil to go with it to extract the best (not maximum) vapor from.
Which brings me to the next part that we will need.... An Rebuildable Dripping Atomizer (called an RDA or RBA). Now there are several models on the market and a quick search on google or ebay will land you several options. What they are is basicly a standard 510 atomizer connection, with a chamber and a few posts terminals to hook up your coil/coils and finally a cap to cover it all up

Here are a few pics of my current setup that I call the "Skeptic Killer" and specs:
Mechanical mod :Titan
Atomizer : Ebay Nimbus clone
Coil/wick setup : 1/8 316 stainless steel cable (5/8" long),1 1/4 wrap of (oxidized 500 ss mesh) and for the coil 3 wraps of 22ga. Kanthal A-1 resistance wire @ 0.15 ohm.
Here is the Mechanical mod + atomizer with the cap off: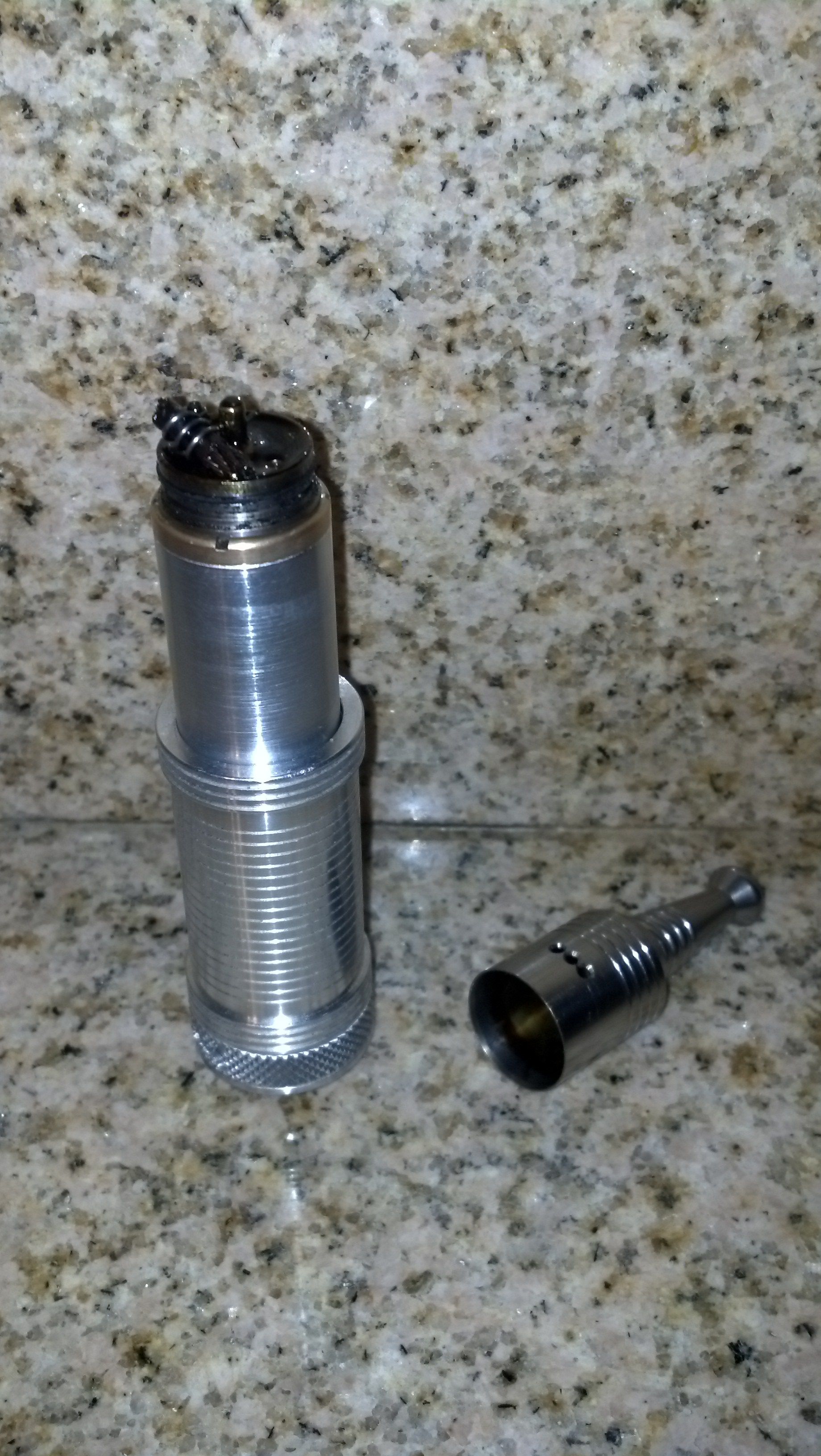 IMG_20130728_084853_199
by
TrueNorthStar
, on Flickr
Loading 1g of near shatter oil on top of the coil:


IMG_20130728_085111_503
by
TrueNorthStar
, on Flickr
Here I "Primed" the wick/coil buy pulsing the power for a really short time, ~0.5sec (NOTE: with "this" setup, be careful with the priming process, coil has the ablility to flash boil the oil very very quickly, you don't want this to happen with the cap off

) Notice the bubbles in it just from the short burst of power!!!


IMG_20130728_085228_331
by
TrueNorthStar
, on Flickr
Here it is all assembled and ready to go!!!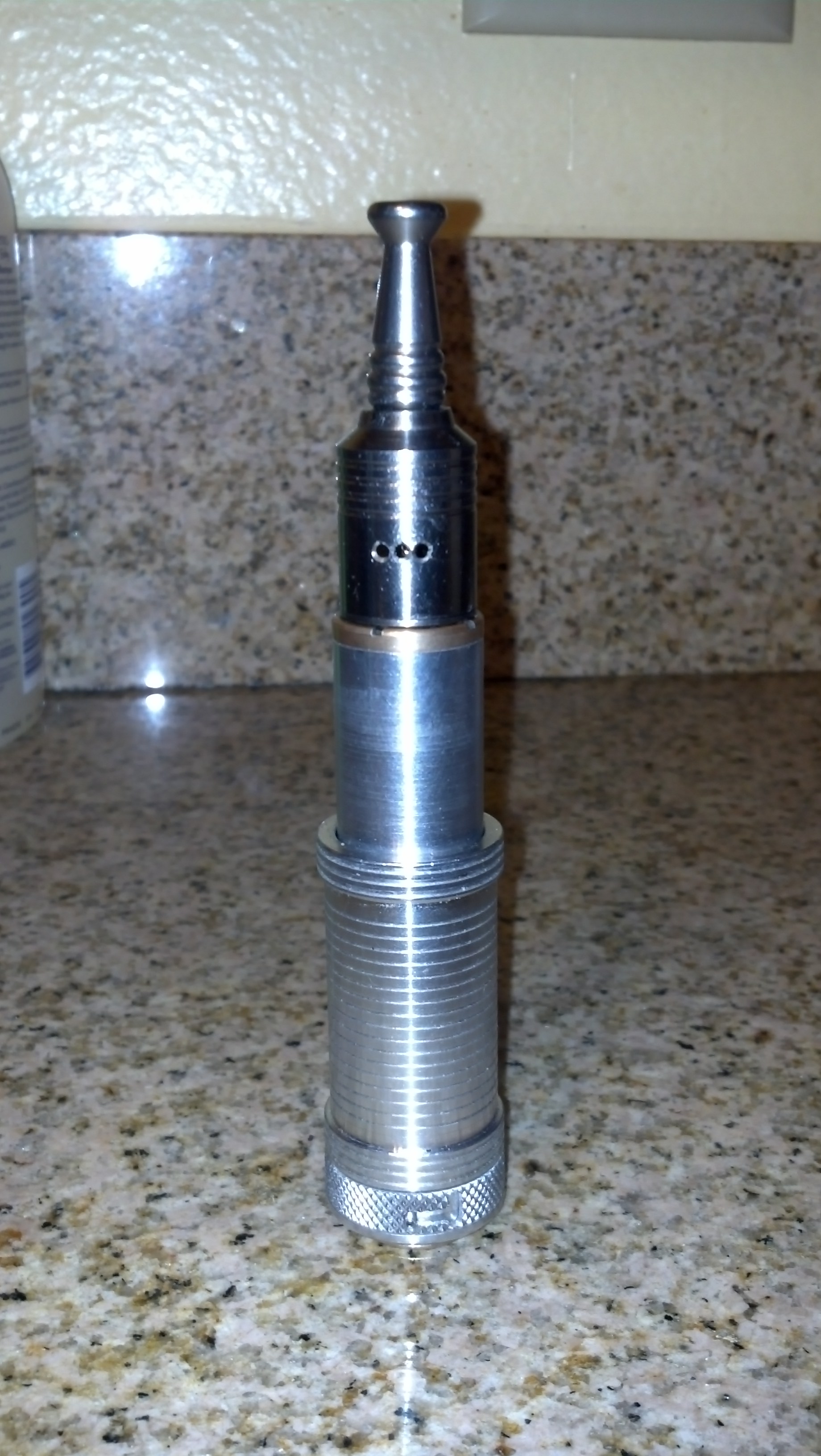 IMG_20130728_085303_911
by
TrueNorthStar
, on Flickr
Notice I modified the cap to the atomizer by replacing the single 1mm air intake hole with 3 x 3/32" holes. This gives you a draw/pull like sucking air through a soda straw

get that out of your g-pen!!!
A few considerations to keep in mind:
RDA/RBA atomizers are meant for dripping a few drops of "e-liquid" and blasting out large amounts of vapor, that said there is no "storage tank". When your oil melts down, it will become as liquid as baby oil. Since that is the case, when I assemble the RDA/RBA cap and body, I place the "air intakes" opposite of the coil, this way I can tilt it back and make the liquid hot oil pool around the coil and not leak out of the intake holes (FYI this is opposite of how they are typicly setup for e-liquid) You WILL BURN YOURSELF if the hot oil leaks out onto your hand, so be mindful of the vaporizers orientation while it is hot!!! Once cool, they are pocket friendly, so leave it upright after use!!!!
It is normal for the unit to get hot near the atomizer, not the body/activation button. If the battery starts to feel warm, stop using it, replace it with a fully charged one. If that battery gets hot, then you have a short or a bad connection. Make sure all of your electrical contacts are kept clean!!!
Once you notice the vaporizer not hitting as hard, re-charge your battery. As a matter of fact, keep your batteries as fully charged as possible, as that is when they are the safest to use

Now here are a few things I have found, avenues for research:
Coil Wire Size: The smaller the wire, gauge wise, the faster the response but expect shorter life. The heavier the gauge, slower response (at the same current level), higher power output @ lower temperatures and will last longer. (typical off the shelf atomizers/carts use between 34-38 ga wire... super responsive, but short lived life and low power output)
Also, the heavier the gauge the more current it can handle.
If you compare 32ga. vs. 22ga. @ the same current, the 32ga will be hotter but transfer less power and the 22ga will be colder, but transfer more power.
The SS cable wick made a huge difference when it came to:
A) controllability, it acts as a thermal ballast, at high power levels it is really easy to ignite your oil if not careful. So with the response slowed down you can "tell" when a blowout is about to happen and let off the power before it happens.
B) Since the cable gives you better control, your coil never gets as hot, therefor extending the life time of the coil.
C) When oil is hot the cable sucks it up fast, keeping more of the coils element in contact with oil = less burning (yes you can burn oil)
My coils last about 2 months of constant abuse (0.5-1.5grams a day)
I'm pretty sure I can't be the first to try this, so I'm hoping there are a few people that have some experiences they can share!!!
Oh yeah, just ordered the new Phonix V6 RBA off ebay, it looks like it may be more user friendly in that you can remove the cap while keeping it in a deep well so you can load and prime the coil without worry of spilling out. I'll let you know how that goes when I get it in.
Last edited by a moderator: